How to Care for Fair Skin and Light Hair
Fair Skin and Light Hair and hair can be such beautiful traits if they are properly cared for. Pale skin can be easily damaged by environmental factors and requires extra protection to ensure not only its beauty but also its health. Light hair (be it blonde or grey) also comes with its challenges. Just like fair skin, light hair is more sensitive to the environment and also requires extra protection.
If you were born with a lighter complexion fret not! Just make sure to check out and apply the tips below on how to care for fair skin and hair, and you will be on your way to looking healthy and great!
Ready for the best skin and hair of your life?
How to Care for Fair Skin
Caring for your skin, no matter the skin tone should be one of the most important parts of our daily routines. Being focused on skincare may come off as being conceited and superficial. But it can improve both mental and physical health. Mentally, having a skincare routine allows for moments of relaxation, self-reflection, and self-care. Physically, caring for our skin, moisturizing it and protecting it against the sun, keeps us away from skin-related illnesses such as skin cancer.
Whether you have fair skin or not, the tips below can be definitely beneficial for you too. But for fair skin people, they are even more important, specifically as they need extra protection against the sun.
Skincare Routine
Fair skin is naturally less protected against UV-rays. If you are not taking the right steps, your fair skin is more prone to sun damage, skin cancer, and wrinkles. So make sure that you are taking the utmost care of your pale skin!
You can start your skincare routine with a gentle cleanser (twice per day), followed by a moisturizer for your skin type. During your morning skincare routine, make sure to add on top a layer of skincare protection of at least SPF 30. At night, make sure to add a layer of nourishing night cream.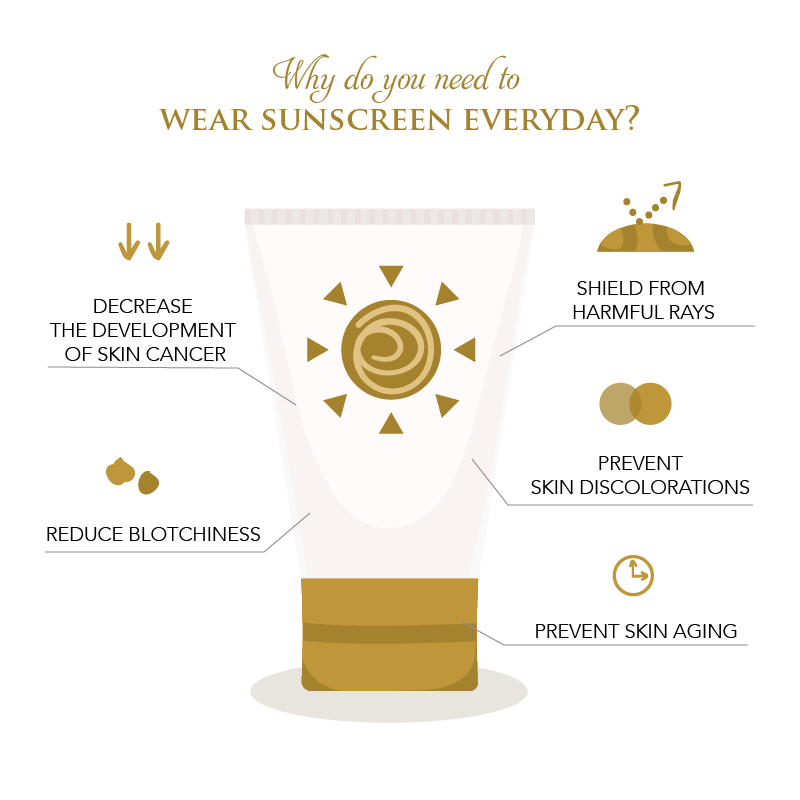 As mentioned above, fair skin is more sensitive and prone to wrinkles, and sun exposure exacerbates this, so make sure you are starting early on with anti-aging products, sometimes even as early as in your 20s. You would look for products that contain collagen, retinol and hyaluronic acid. For extra moisture, do a face mask every other day, be it a store-bought one or a DIY one.
No matter what skincare products you use always make sure that they are adapted to your skin type. Oh, and don't forget to always remove your make-up before bed and make sure to drink 2l of water every day!
But do you think that's all you have to do?
Sun Protection
While the skin care tips above apply to absolutely everybody, if you have fair skin, you have more responsibility in ensuring its protection. It's not enough to apply SPF in the morning. If you are spending your day outdoors, make sure to reapply every 2 hours. This is especially important if you are sweating, doing sports or spending time by the pool. Not all sunscreens are water-resistant and the sweat/water will just wash them away.
But even with the diligent application of SPF, some fair skin people can still burn and suffer sun damage. If you are in such a case, make sure to equip yourself. You can protect your skin by using an umbrella, a cap or a sun visor. Don't forget to wear UVA sunglasses to not only protect your eyes but also to protect the skin around your eyes, which is the most sensitive and prone to wrinkles.
With fair skin being so sensitive to the sun's rays, make sure you wear SPF all year round and according to the weather, add various accessories for extra protection. You may also want to try a moisturizer that is infused with SPF, such as the 24K Bio-Brightening Skin Tone Moisturizer SPF 30, so you can lock in moisture while protecting your skin from sun damage.
Redness
Fair skin can also be prone to redness, which can look more pronounced than on darker skin tones. If you experience flushed skin, small red bumps (that are not pimples or acne), or large dilated blood vessels on the cheeks, you may be struggling with rosacea.
Wondering what causes rosacea?
Unfortunately, the cause is still unknown, even though there's been a lot of research on it. The general consensus right now is that it is caused by inflammation in the body.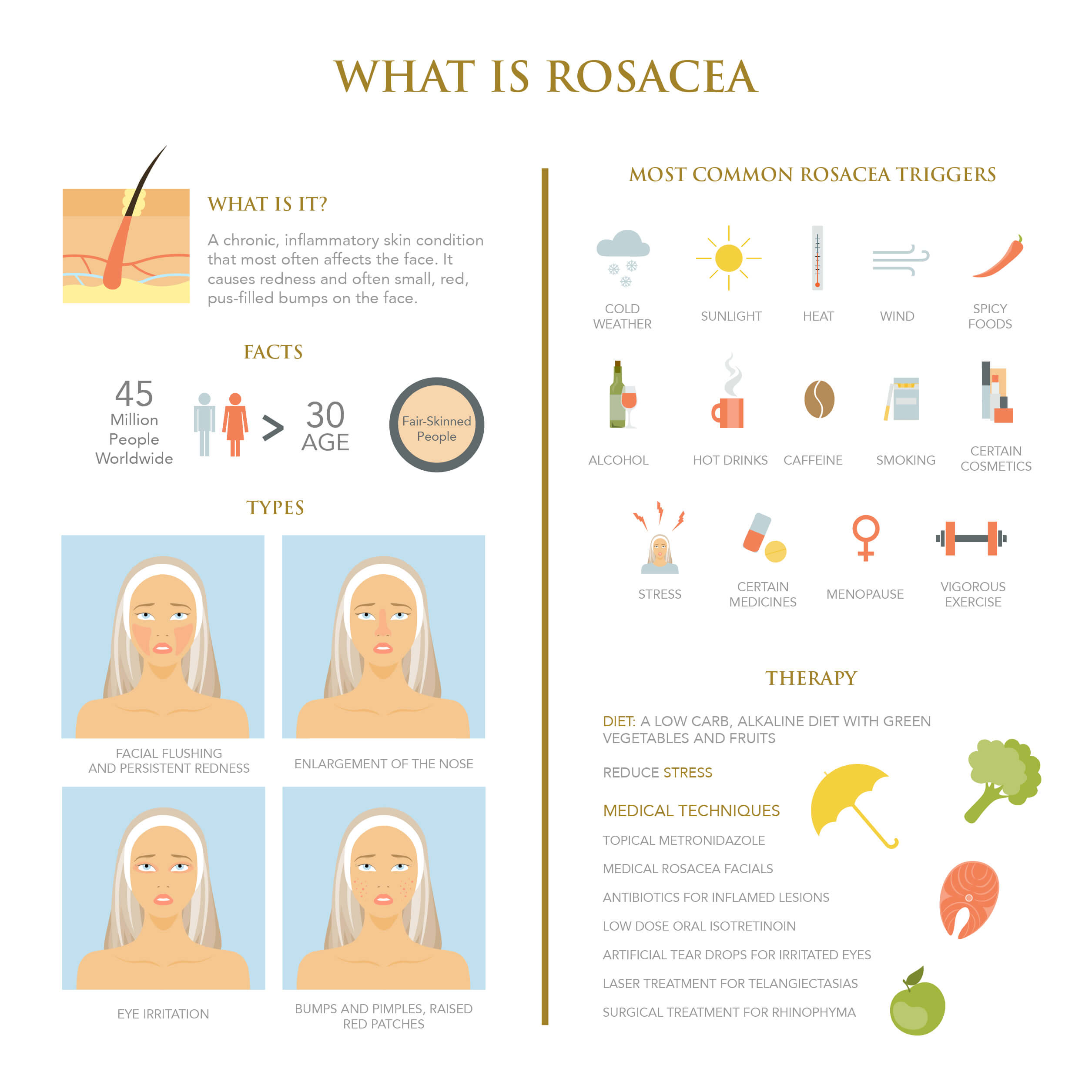 Rosacea tends to affect people over the age of 30 with fair skin. If the redness doesn't go away, make sure to go to your dermatologist for professional advice.
Getting That Glow
Many people with fair skin are fans of tanned skin. While prolonged sun exposure is unhealthy, no matter the skin tone, there are ways to get a healthy glow. Most people would think of tanning beds (or solarium), but they are as unhealthy as being exposed to the sun's rays. The healthiest way to get the shade you want is to use self-tanning products.
If you are afraid of looking washed out, you can try the many products out there on the market that will allow you to get that perfect shade all over your body, without the sun damage. And the best part is that it's quick and you get to pick the shade you want!
Makeup for Fair Skin
Fair skin can be a challenge when it comes to make-up. It all starts with your undertones. Make sure you know them before choosing your foundation and the colors of your blush and lipstick. One way to find out your undertones is by looking at the veins of your wrist. If they are green, you have warm undertones. If they are blue, you have cool undertones. If they look blue and green, then you have neutral undertones. According to the list below, you can see which colors are complementing your complexion best!
• Cool undertones: pink, red, blue
• Warm undertones: yellow, peach, golden shades
• Neutral undertones: a balance between cool and warm
Now that you have detected your undertones, you can go on and select your perfect foundation and concealer, to cover any imperfections you may perceive your skin has. If you have freckles and love them, make sure to choose a foundation with lighter coverage, so as to not completely hide them.
Now that your canvas is ready, you would want to go for the right blush to give you a natural flush. If you have warm undertones, go for peach, soft pink or coral. If you have cold undertones, go for rosy pink or soft lilac. When it comes to eye shadow, your best bet is to go for earthy and bronze shades. Fair skin is known to look absolutely great with bright and bold lipsticks, so don't be shy to even go for an orange-red lipstick!
Most people born with fair skin also have light hair. While that also takes some effort, it is always worth taking care of one's body. If you have light hair or are looking to get blonde hair at the salon, make sure to go through the tips below to ensure you have the healthiest, best-looking hair out there!
How to Care for Light Hair
Whether you were born with blonde hair, or whether you have chosen to bleach and dye it, you have to make sure you are taking extra care of it. Blonde hair is finer than darker hair and more porous, thus making it more sensitive to the environment.
What do we have to do to keep the glamorous blonde hair healthy?
Specialized Hair Care to Keep Your Hair Light
Yes, you read that right! Blonde hair, be it natural or not, requires special hair care that not only nourishes and protects it, but also keeps its color vibrant.
If you are a natural blonde, you know how your hair color will change with the seasons. From the lightest shade of blonde in summer to almost 4 shades darker in winter. If you are not a natural blonde, you know how your hair can get these unflattering brassy tones. To prevent your hair from changing its color, check out the ways you can keep it light all year round!
Use a Purple Shampoo
To avoid brassiness, go for a purple shampoo that would take away the orange tones and restore the blue tones to the hair.
Use a Toner
If the purple shampoo does not work enough, you can go for a toner. The best way is to go to the salon, as it's more effective than a store-bought toner.
Chamomile Tea Rinse
In winter, when the sun is not as strong, you can go for a chamomile tea rinse. After boiling the chamomile bags in water, allow the tea to cool. After your normal hair washing routine, rinse your hair with the tea and let your hair dry.
Honey Mask
For a more intensive treatment, both for the color and your hair, how about a hair mask? Honey can naturally lighten your hair and nourish it. Mix honey with hair conditioner in equal parts, apply the mix to your hair, cover with a shower cap and leave on overnight. The next morning just wash your hair as usual.
If none of these works on keeping your hair blonde all year round, you might have to pay a visit to the salon to artificially lighten up your blonde during the winter months. This will ensure that your hair is professionally taken care of.
Sun and Heat Protection for Blonde Hair
Just like fair skin, blonde hair also needs extra protection against the sun. Blonde hair is more sensitive, and thus more prone to dryness and brittleness because of the sun damage.
Whenever you are out, protect your hair against sunlight by spraying special hair SPF all over it – and this will also protect your scalp! Even better – if the sun shines strongly, wear your favorite hat or a scarf. During summer holidays, whether you are at the beach or going to the pool, your blonde hair will be exposed to the sun longer than usual. Make sure to use after-sun hair care products, such as shampoos, conditioners and hair sprays. Those will restore the hair's moisture, temporarily repair split ends and strengthen the hair. After every swim, make sure to rinse your hair with fresh water to remove salt or chlorine.
If you are a fan of styling your hair using blow driers, hair straighteners or hair curlers, you want to make sure that you are also protecting your hair against that heat. If you love to blow dry your hair, consider alternating it with air-drying, to reduce the damage on your hair. If you are a fan of hairstyles that require a straightener or a curler, then make sure you are using the right products. Before starting using such hot tools, make sure your hair is completely dry, and then apply a heat protectant. They will minimize the damage and keep your hair healthier!
Nourish Your Light Hair
To counteract the sun and heat damage, make sure to regularly use hair masks to restore moisture, be it a mask that you got from your favorite brand or a DIY hair mask that you can use with ingredients from your kitchen. One of the best homemade hair masks can be easily done by crushing a ripe banana and mixing it with olive oil and honey. Add on your hair, massage your scalp, wrap with a towel and leave for 15 minutes. Follow with your usual hair washing routine!
Blonde hair can be a challenge for its wearer, but the effort is always worth the result. Having a healthy, luscious, blonde mane can not only complement your complexion beautifully but also boost your self-confidence.
In this day and age, with the environment being more and more polluted, the daily lives being so much more stressful and the sun being stronger and stronger, it's important to look after ourselves and care for our bodies. And that includes taking care of your fair skin and hair!